Doc Severinsen, Latest Band in Fine Form / By Alan Adams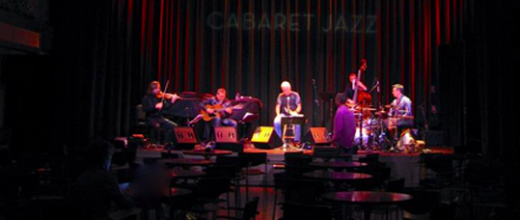 Twenty years have passed since Doc Severinsen ended his 30-year stint on "The Tonight Show with Johnny Carson." Judging by the average age in the intimate Cabaret Jazz at The Smith Center for the Performing Arts on Friday, most – if not all – of the near-capacity audience fondly remember the show and its charismatic trumpet player and band leader.
Severinsen was nearing the end of a brief tour with his latest aggregation, the San Miguel 5. This is not a pickup band. It doesn't boast typical quintet instrumentation nor does it perform familiar crowd-pleasing tunes. In addition to Severinsen, the group consists of guitarist Gil Gutiérrez, violinist Charles Bisharat, percussionist Jimmy Branly and bassist Kevin Thomas.
These guys genuinely have fun playing together, and it shows. They have fun because each is a virtuoso in his own right. They have fun because they listen to each other and play off of each other much as a top-flight athletic team.
And because they have fun, so does their audience.
The program was heavily based on South American tunes and rhythms. Even improvisations eschewed traditional influences in favor of melodic and rhythmic figures not common to American jazz.
The single set began with a nearly rhapsodic extended introduction giving way to solos for trumpet, then violin, then guitar. Then came a tango by the late Argentinian composer Astor Piazzolla, a spectacular piece spotlighting Bisharat's violin and Severinsen's trumpet, ending softly with the trumpet muted. The violin is far from being standard in jazz or jazz-pop, but in Bisharat's hands, it fit perfectly. He is a thoroughly rounded musician who plays in the studio as well as on the road and fills in as needed with the Los Angeles Philharmonic and the L.A. Chamber Orchestra. The sound he coaxes from his amplified instrument in this context is often a perfect replica of Severinsen's trumpet tone rather than that of a traditional violin.
The style then shifted to as close as we would get to big band jazz. Branly led off with a perfect imitation of Gene Krupa's famous drum solo that introduces Benny Goodman's classic "Sing, Sing, Sing," and Severinsen followed with a trumpet solo that recalled the sweet, rich sound of Harry James. The tune turned out not to be the actual Goodman classic, but close enough for nostalgia.
Another Piazzolla tune, this time a samba with jazz licks, put the spotlight on Bisharat for what might have been the solo highlight of the evening.
Then Severinsen said they would play a piece they'd never rehearsed but put together only during the afternoon's sound check. It turned out to be "Caravan," which Duke Ellington turned into a standard. Severinsen may have been stretching showmanship a little, because the Juan Tizol tune was carefully crafted and hung together perfectly. If it really was a spontaneous "head arrangement," it was a tribute to the group's masterful musicianship. It was followed by a sensitive and mellow version of "Nuages," a piece by Django Reinhardt and Stephane Grappelli.
The 75-minute program closed with an up-tempo samba that showcased drummer Branly as well as Severinsen and guitarist Gutiérrez.
Severinsen appears to have lost none of his technical proficiency, power and remarkable stamina and maintains his vaunted high-note virtuosity. This is all the more amazing since three months ago, he turned 85, an age when most brass players who reach it probably turn their horns into lamps.