Doc Severinsen & his Rhythm of Life. The NY Pops presents Severinsen & Gutiérrez at Carnegie Hall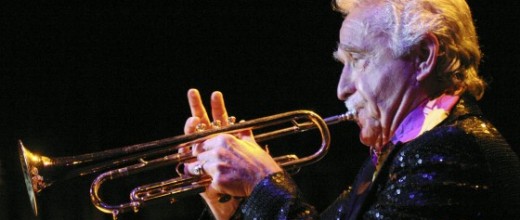 The New York Pops will ease the January chill under the baton of Music Director Steven Reineke presenting Doc Severinsen and his El Ritmo de la Vida – The Rhythm of Life – ensemble at Carnegie Hall. It will feature guitarist Gil Gutierrez, violinist Charlie Bisharat, and percussionist Jimmy Branly.
After retiring from The Tonight Show in 1992, Severinsen moved to San Miguel de Allende, Mexico. He met a group of local jazz musicians in a cafe and eventually formed his current ensemble, El Ritmo de la Vida.
The group's repertoire is a heady blend of traditional Mexican music, Argentine tango, Spanish flamenco and gypsy jazz.
Doc Severinsen's music career began at a young age; he won the Music Educators National Contest at age 12. After serving in the Army during World War II, he landed a spot with the Charlie Barnett Band, followed by the Tommy Dorsey and Benny Goodman bands in the late 1940s.
Severinsen came to New York City in 1949 to become a staff musician for NBC. In 1962, after years of playing with the peacock network's studio bands, he was invited to join the highly respected Tonight Show Band as first trumpet. Five years later, Severinsen took over as Music Director, where he stayed until 1992. After the Tonight Show, Severinsen continued to perform and conduct major orchestras throughout the US and Canada, and served as pops director for the Milwaukee Symphony, Minnesota Orchestra and the Phoenix Symphony.
A Grammy award winner, Severinsen has made more than 30 albums – from big band and jazz-fusion to classical. His recordings include Unforgettably Doc with the Cincinnati Pops on Telarc, and the Grammy nominated Once More With Feeling on Amherst. He received a Grammy Award for "Best Jazz instrumental Performance – Big Band" for his recording of Doc Severinsen and The Tonight Show Band-Volume I.
A native of Oaxaca, guitarist and composer Gil Gutiérrez has made his home in the UNESCO World Heritage city of San Miguel de Allende, Mexico for many years. A guitar virtuoso, he has attracted a following through his many recordings, film scores, and concert appearances. After studying classical guitar at the Benito Juarez Autonomous University in Oaxaca, Mr. Gutiérrez'interests spread to many musical genres, such as classical, jazz, flamenco and son cubano. Mr. Gutiérrez has toured South America and Spain with Ana Gabriel, Ricardo Arjona, Francisco Cespedes, and Pedro Guerra, and composed music for such films as El Cochero, Una Causa Noble, and El Alcazar de Chapultepec. He has performed at the Kennedy Center and the Mexican Cultural Institute of the Mexican Embassy in Washington D.C. Last year he performed his original compositions with the New York Choral Society in Oaxaca, San Miguel de Allende and Guanjuato, Mexico. Gil Gutiérrez has collaborated on more than 60 concerts with trumpeter Doc Severinsen, appearing with symphony orchestras across the United States and recently at the International Trumpet Festival with Arturo Sandoval in Mexico City.
Doc Severinsen was hired to go on the road with the famous Ted Fio Rito Orchestra, while still in high school.