Doc Severinsen & The San Miguel Five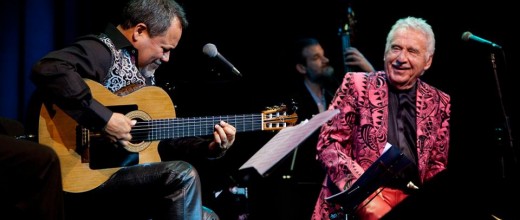 "Severinsen certainly is… among the greatest trumpeters of our time."
By Mimi Beck Knudsen, Reno Gazette-Journal, July 18, 2011.
The vivacious trumpeter and bandleader Doc Severinsen leads the San Miguel Five in an evening of sophisticated Latin rhythms and jazz. It is virtuoso classical Spanish with a jazz flair, gorgeous ballads, both Latino and American, plus some great movie music and some gypsy jazz, à la Django Reinhardt.

Together with guitarist (and coleader) Gil Gutiérrez, Doc has crafted an innovative and exciting program. Classical guitarist Gutiérrez is a virtuoso who consistently delivers energetic, electric performances. Add violin, bass, and percussion players and the soaring trumpet of Doc, and the experience is indescribably brilliant—visually and musically.
"Amidst the mad, high energy of the [Carnegie Hall] show, filled with Severinsen's sparkling trumpet solos, demon guitar work by Gutiérrez, propulsive Cuban beats, and a moment when percussionist Branly rushed center stage to drum on Gutiérrez's guitar, there were also meditative pieces that linger in the memory still."—Mona Molarsky, Examiner.com, January 2011
"Many of the arrangements were done by Gutiérrez, who is a world class guitarist, and were absolutely beautiful. The incorporation of the trumpet into these tunes was seamless, not only because of the arrangements, but because of Severinsen's ability to adapt to the feeling and mood of each song…. His range on the trumpet, as well as the speed of his fingers were still impressive, but what was truly mind-blowing was how great his tone still was."
—Groove Notes