Gil Gutiérrez and a Place Called Zandunga / By Rebecca Kalmehar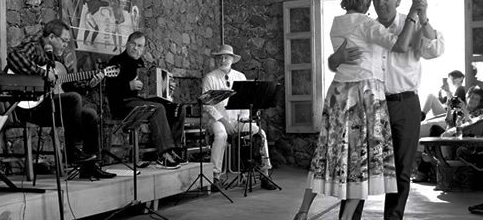 Longitude 100 37'25.50 West and Latitude 20 48' 47.44 North at 7,087 feet altitude just outside San Miguel de Allende, along the Jalpa valley road, where mountains rise to the south and boys herd Brahma bulls, almost smack dab in the middle of Mexico – this is his place. Gil Gutierrez can play guitar anywhere in the world he wants. He has played in Carnegie Hall and as a soloist with symphony orchestras in the United States. He's toured Latin America, Spain and Mexico with pop stars Francisco Céspedes, Ana Gabriel, Ricardo Arjona and Pedro Guerra and toured with Doc Severinsen.

But these magical coordinates are his place now. A place his wife Rebecca named Zandunga, which comes alive with music on Sundays where the boy who began playing guitar in San Miguel at 18 now brings in the musicians he loves and the music flows.
"We bought the land ten years ago," Rebecca explains as I sit in her kitchen in downtown San Miguel on Hernandez Macias Street where she is roasting green peppers, preparing the food they will serve to the crowd this Sunday. The doorbell rings and she sells two tickets for Sunday's performance. "Gil doesn't usually care much about countryside land. But suddenly there he was with machete in hand, imagining something happening out there in the future.
"At first I said 'make me a lean-to' for family picnics and bar-b-ques.' That became a stone building, the one that today is the music room and it has great acoustics, by the way. We put a covered patio out front. Then we started inviting friends over to join us for an afternoon meal in the country. Naturally Gil would bring out his guitar and play. One day Woody and Laura Rey said, 'Hey, this is your place Gil, this is where you should play and let people come enjoy music in this beautiful setting.' So we tried it. It's working and evolving."
"For us giving music Sundays at Zandunga is as if we are welcoming you into our home and circle of friends," Rebecca continued. "I love to cook and prepare almost all the food myself," she says, putting tomatoes on the stovetop to roast, mentioning what she will cook in the coming days for the Sunday meal. "We'll serve grilled chicken wings and pork for tacos. I prepare for the quesadilla bar and start by using the best Oaxacan cheese. I cook vegetarian options like refried Oaxacan black beans, sautéed mushrooms, grilled green chilies plus mole and potatoes or romeritos when in season, and chicken with chipotle. We roll all that up in the best hand-made blue tortillas found in San Miguel."
The invitations go out from Rebecca's computer weekly and news of the Sunday concerts have begun appearing on the San Miguel Civil List, a Yahoo group. "We plan to do concerts at Zandunga all summer long. Last winter we did a concert every Sunday January through April. Yes, I ended the season a bit exhausted, but elated too, as was Gil. We love the way it all works out today, and we can visualize a future that might hold an outdoor ampatheater with the mountain backdrop and room for 400 or 500 hundred," Rebecca says. "And we will still bring along that feeling of unity, family and friendship between ourselves, the musicians and our audience. But that's a long way off. I just want to finish this cooking for what could be 140 people this weekend, and then enjoy it on Sunday when Gil, Gabriel Hernandez and Camille Garcia will play together at Zandunga."
Like myself, everyone owns a story of Gil as a virtuoso Mexican guitarist and composer. To hear him once is to never forget. Residents go out of their way to find him playing. Tourists watch for him and friends who have visited over the years still inquire as to how he is doing. Collectively we remember Gil playing with Lobo and with violinist Cartas and of course, with Doc Severinsen and the myriads of other world-class musicians here in San Miguel. Now many of these musicians join Gil on Sundays at Zandunga, an oasis of music and family style hospitality. As Wikipedia reports, "Gil continues to push boundaries as a musician and musical director as he brings together new combinations of musicians and musical styles including jazz, Gypsy-jazz, flamenco, opera, Cuban and Mexican styles that continue to create performances considered the cultural vanguard."
And what's in a name? Rebecca explains, "Zandunga means 'celebration', in fact it's a Mexican waltz and even has words. I'm having the words printed up and the audience can sing it, from song sheets at Zandunga." Maybe she's kidding. Maybe I'll find out next time I go, and the mango margarita or their special mezcal from Oxaca will encourage learning the words. I can already imagine the beautiful drive out along the Jalpa valley road, the earthy flavored Mexican food, the wonderful music, couples dancing, friends visiting and the welcome feeling I will have that Gil and Rebecca share easily with each guest who arrives.
Anyone who has been out knows this place will become legend and 'a must' when visiting San Miguel and that reservations will be needed. Tickets must be purchased ahead of time, for Rebecca's 'count'.