Renowned Virtuoso Guitarist Gil Gutierrez Returns To The Jazz Standard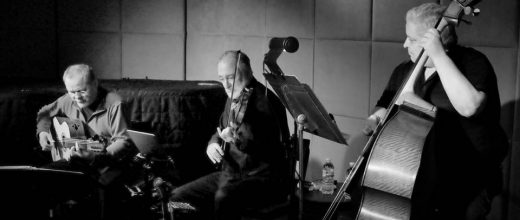 Renowned virtuoso guitarist and composer Gil Gutiérrez with bassist David Rodriguez and violinist Robert Stern makes a much-anticipated return to the legendary Jazz Standard in New York City, May 22-23, 2018.
Gil Gutiérrez made his Jazz Standard debut in 2017 – and stunned jazz aficionados when each set was sold out! Gil Gutiérrez has established an avid following throughout Latin America and Spain with his classically-trained mastery of jazz, flamenco, and son cubano. Beginning in 2007, the guitarist performed more than 60 concerts as part of the San Miguel Five, a group led by famed trumpeter Doc Severinsen following his post-"Tonight Show" retirement to Mexico. This ensemble appeared at Carnegie Hall, accompanied by the New York Pops. Gutiérrez is known for collaborating with such superstar vocalists as Ana Gabriel and Francisco Céspedes, and with trumpeter Arturo Sandoval.
See Gil Gutiérrez join forces with two equally gifted colleagues, bassist David Rodriguez and violinist Robert Stern for high-level improvising at the Jazz Standard located at 116 East 27th Street in New York City. Tickets for the performances taking place on Tuesday, May 22 and Wednesday, May 23rd at 7:30pm and 9:30pm can be purchased for $30.00 by visiting www.jazzstandard.com or 212.576.2232.
At age fourteen, Gil Gutierrez began playing classical guitar in restaurants in Oaxaca and caught the attention of German born guitarist Wolfgang "Lobo" Fink of Willie & Lobo. At 17, he teamed up with Fink to play venues in San Miguel de Allende, Mexico. When Fink returned to Germany, Gutiérrez went to Mexico City to study jazz earning money by playing his guitar on city buses The guitarist has played in South America and Spain with Ana Gabriel, Ricardo Arjona, Francisco Cespedes, and Pedro Guerra. A virtuoso with the nylon string guitar and tres, Gutiérrez has performed at the Kennedy Center, the Mexican Cultural Institute of the Mexican Embassy in Washington D.C.[ and to a crowd of 10,000 people at Millennium Park, Chicago Gutierrez is recognized for his unique ability to connect with the audience [8]and channeling a bit of the local energy into each performance.
Gutiérrez talent was discovered by Doc Severinsen, who heard him play at a restaurant in San Miguel de Allende. Severinsen led the NBC Orchestra for twenty years on Johnny Carson's Tonight Show. They recorded their first album together in 2007 called En Mi Corazon. Gutierrez is the band leader founder and musical director of the group the San Miguel 5 and they have performed with symphony orchestras across the United States. Other musicians of the San Miguel 5 include Grammy winning violinist Charlie Bisharat, Cuban percussionist Jimmy Branly and bass player Kevin Thomas. In 2011 Gil Gutiérrez and Doc Severinsen played at New York City's Carnegie Hall accompanied by the New York under the direction of conductor Steven Reineke.
Gutiérrez has performed as a soloist with the Minnesota Symphony, Florida Symphony and with the Doc Severinsen Big Band Tour in Dallas, Texas.] In 2013 he was the featured artist and directed the ensemble at the Calaca Festival honoring Chavela Vargas in San Miguel de Allende. Constantly pushing boundaries as a musical director he brings together new combinations of musicians and musical styles. These include opera, jazz, cantaor flamenco, Cuban and Mexican styles to create performances considered the cultural vanguard. Among his works are performances of his original compositions with the New York Choral Society and scoring of several films including El Cochero, El Alcazar de Chapultepec and Una Causa Noble utiérrez composed and performed the soundtrack for the documentary film Lost and Found in Mexico. In 2013 Gutierrez was featured in the National Geographic Traveler documentary The Granny Diaries. He was a special guest soloist with Arturo Sandoval in the Mexico City Palace of Fine Arts.
New Jersey's Dave Rodriguez is a Grammy and Emmy Award nominated producer and performer at venues ranging from Carnegie Hall to the Apollo Theater. He has worked with artists ranging from Max Roach to Tito Puente to the Rochester Philharmonic. Rodriguez is currently the Executive Producer at the New Jersey Performing Arts Center (NJPAC) In Newark, New Jersey where he oversees all programming including television produced shows including America's Got Talent, Black Girls Rock and the American Songbook Series on NJTV.
Bob Stern has been playing violin for over 50 years, performing in multiple styles, from Baroque music to country, rock and jazz, both live and in studios. He has been a featured artist with classical harpsichordist Linda Burman Hall, rock guitarist Jerry Miller (Moby Grape), German jazz composer Christian Ludwig Mayer, Texas bluesman Charlie Prichard, percussionist Michael Spiro, singers Laura Branigan, Joe Thomas and Gary Burr, producers Arif Marden, Joshua Thompson, Harold Kleiner, among others.
Gil Gutiérrez played the Jazz Standard Wednesday, May 24, 2018 in New York City. Joining him will be Robert Stern and David Rodriguez.