The Gil Gutierrez Trio at Jazz Standard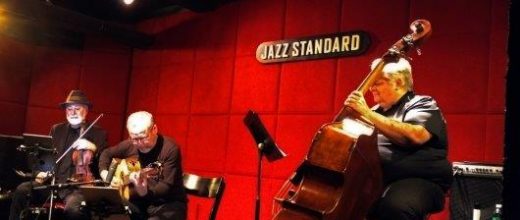 Joining a classical pianist friend at Jazz Standard's first set tonight for dinner and music was all the more enjoyable thanks to the extraordinary trio, Gil Gutiérrez on guitar, Robert Stern on violin, and David Rodriguez on bass. In fact, I was so enthralled with the trio's lush arrangements of some of my favorite tango tunes, listed above, that I stayed for the second set, and there were additional tunes, plus ravishing encores of the Piazzolla and Laurenz tangos.
To quote a note from tonight's violinist, Robert Stern, he calls the trio's music "a unique amalgamation of jazz, Latin, flamenco, and chamber music, filtered through the incredible mind and heart of Gil… Gil took up the cello as a child, but the school only had one poor instrument for too many students. As guitars were more common… the young Oaxacan started playing it for coins on the streets… After a few years, his aptitude and dedication to the instrument caught the eye and ears of a German guitarist named Wolfgang Fink (known as "Lobo" in Mexico)… of "Willie and Lobo" fame. Lobo started playing with young Gil and then financed sending the budding virtuoso off to Conservatory to get a more complete musical education… Gil is a highly skilled… musician, composer, arranger and director… Doc Severinsen, a music director in a group called "The San Miguel Five",… called Gil to join him in concert in LA between our trio's four gigs in the Northeast."
The Gismonti song, "Palacio de Pinturas", was languid and melancholy, mysterious and rhythmic, with warm, windy, eloquent resonance. It was like a moonlit walk along a craggy shoreline. The trio is seasoned and tightly in sync with the works we heard on both sets, as they relax into the rapturous rhythms and exotic tones. Piazzolla's "Libertango" is a work I know well, as a former tanguera and Argentinean music aficionada. "Libertango" is also the opening theme or intrinsic score in films related to tango in Buenos Aires. But, I have never heard such a spellbinding arrangement as Gil, Robert, and David presented tonight, and twice! The pulse and depth of melodic passion, with Robert's dramatic violin embellishments and David's persistent and driven bass, along with maestro Gil's filmatic guitar theme, was astounding. This trio often switches the tune's lead among the instruments, to stunning interpretive effects.
Among the remaining songs, Laurenz' "Milonga de Mis Amores" was even more engaging in this trio's arrangement, than I remember when dancing the upbeat, joyous dance. I noted that the tonal energy was fantastic. In and among the additional tunes, Pascoal's "Chorinho pra Éle", Metheny's "Chris", Haden's "Our Spanish Love Song", Lennon-McCartney's "Blackbird", Nascimento's "Vera Cruz", "Camino Del Pan Bendito" (anonymous), and Corea's "La Fiesta", we were grandly treated to David's bass blending into jazz refrains, Gil's soft vocals, that were tonal enhancements to a flamenco-guitar melody, and Robert's magnetic violin solos that transcended the tropical-flamenco-Brazilian themes. The trio's contrasting tempos and sensuous phrases abounded. I noted that this music at times took on a gorgeous orchestral quality, a smooth jazz ballad at other times, and flamenco motifs that were warm and vibrant. Gil often used his guitar for hand percussion as well. I hope to catch one of this trio's upcoming performances, as fragments of each of these tunes still dance in my mind.