About
GIL GUTIÉRREZ  May 1, 1962. Oaxaca, Mexico
Oaxaca-born guitarist and composer Gil Gutiérrez has made his home in San Miguel de Allende for many years. His music and playing have attracted attention from North and South America to Europe through his many CD's, film scores, and concert appearances. After studying classical guitar at the Benito Juárez Autonomous University in Oaxaca with teachers José Benitez from Peru and Jose Saldana from Mexico, Mr. Gutiérrez' interests spread to many musical genres, such as jazz, flamenco and son cubano.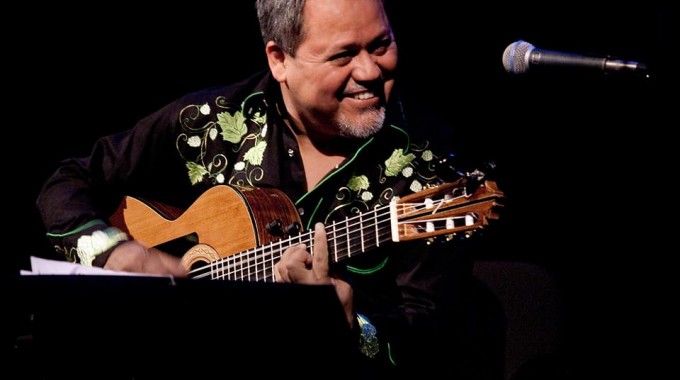 Mr. Gutiérrez has toured South America and Spain with Ana Gabriel, Ricardo Arjona, Francisco Céspedes and Pedro Guerra, and composed music for such films as "El Cochero," Una Causa Noble," and "El Alcazar de Chapultepec." Since 2007 Mr. Gutiérrez has directed and performed in more than sixty concerts with trumpeter Doc Severinsen and the "San Miguel 5, appearing with symphony orchestras across the United States. In January of 2011 they presented their unique program at New York City's Carnegie Hall accompanied by the New York Pops. Gil Gutiérrez has performed as a guest soloist with the Minneapolis and the Florida Symphony. Arturo Sandoval invited the guitarist to perform as a special guest soloist at the Mexico City Palace of Fine Arts.
Baltimore Symphony
Cincinnati Pops Orchestra
Indianapolis Symphony
Jacksonville Symphony
Millwaukee Symphony
Minnesota Symphony
Nashville Symphony
New York Pops
Phoenix Symphony
San Antonio Symphony
San Diego Symphony
Seattle Symphony
Spokane Symphony
Toledo Symphony
PAST PERFORMANCES
Angela Peralta, San Miguel de Allende
Bass Performance Hall, Texas
Bellas Artes, Mexico City
Bemidji State University, Minnesota
Benaryoa Hall, Washington
Bob Carr Performing Arts Center, Florida
California Center for the Arts, California
Carnegie Hall, New York
Cedarburg Performing Arts Center, Wisconsin
Center for the Arts, Virginia
Clayton Center, North Carolina
CSU Northridge, California
Hill Auditorium, Michigan
Hodgson Hall, Georgia
Jesse H. Jones Hall, Houston
Kennedy Center, Washington D.C.
Kirkland Performance Center, Washington
Langford Auditorium, Nashville
Lincoln Theatre, California
Macedonio Alcala, Oaxaca, Mexico
Marcus Center for the Performing Arts, Wisconsin
Marion Palace Theatre, Ohio
Mahaffey Theatre, Florida
Ocean Reef Cultural Center, Florida
Orchestra Hall, Ohio
Peerys Egyptian Theatre, Utah
Scottsdale Center for the Performing Arts, Arizona
Sauder Concert Hall, Indiana
S.E. Belcher Jr Chapel and Performance Center, Texas
Strathmore Hall Arts Center, Maryland
Tampa Bay Performance Arts Center, Florida
University of San Diego, California
Vern Riffe Center of Arts, Ohio
Yoshi's, California
Whitaker Center, Pennsylvania