Jazz Virtuoso Guitarist Gil Gutiérrez Trio Comes to Birdland Theater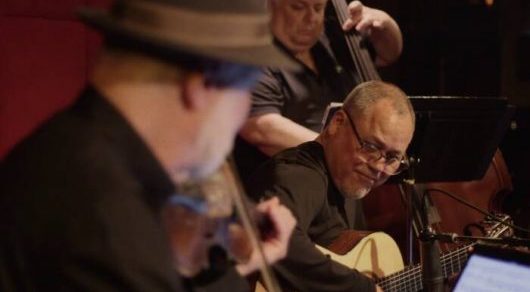 See the incredible Gil Gutiérrez Trio performing at the legendary Birdland Theater on June 3rd – 5th with two sets each evening at 7 p.m. and 9:30 p.m. Internationally renowned virtuoso guitarist and composer Gil Gutiérrez accompanied by David Rodriguez (Bass) and Robert Stern (violin).
Gil Gutiérrez is a virtuoso that has mastered the nylon string guitar. He is known throughout the music industry as one of Mexico's finest musicians with an unimaginable artistry in merging classical, jazz, and flamenco. Gutiérrez is revered among fellow musicians and attract many celebrities to his performances, many of which have spontaneously jumped on stage joining his jam session. One does not know who might show up when Gil performs; previous sightings include Bonnie Raitt, Meryl Streep, and Doc Severinsen.
Gil Gutiérrez was recently featured on PBS American Masters "Never Too Late" focusing on the career of Doc Severinsen. Gutiérrez served as Doc's music Director of the San Miguel Five for more than a decade. Famed Trumpeter,Doc Severinsen actually introduced Gutiérrez to American audiences as Gutiérrez performed in more than 60 concerts as part of San Miguel Five, a group led by Severinsen following his post on the "Tonight Show." The ensemble appeared at The Kennedy Center, the Mexican Cultural Institute of the Mexican Embassy in Washington D.C., New York City's Carnegie Hall accompanied by the New York Pops.
Gil Gutiérrez has established an avid following throughout Latin America, America, and Spain with his classically trained mastery of jazz, flamenco, and son Cubano. Gutiérrez superstar collaborations include superstars Ana Gabriel, Francisco Céspedes, Arturo Sandoval and many others.
Joining Gutiérrez on stage at the legendary Birdland is New Jersey's Dave Rodriguez (upright bass), a Grammy and Emmy nominated producer and performer. Rodriguez performs at venues from Carnegie Hall to the Apollo Theater. He's worked with artists ranging from Max Roach to Tito Puente to the Rochester Philharmonic. He is currently the Executive Producer at the New Jersey Performing Arts Center (NJPAC) In Newark, NJ.
Violinist Bob Stern performed with classical and pop artists, including Jerry Miller (Moby Grape), Charlie Prichard, and Laura Branigan.
Don't miss this astounding show with the Gil Gutiérrez Trio at the legendary Birdland Theater on June 3rd – 5th with two sets each evening at 7:00 p.m. and 9:30 Be sure to reserve tickets Now to see the Gil Gutiérrez Trio at Birdlandjazz.com.